Check the Production Quality of HPLC Vials
Aijiren has a strict inspection system. There are quality inspection links in different production links. Some are self-inspection of production machines, and some are manual screening and inspection. Usually, there are inspection links in different links such as production, finalization, printing, and packaging. Workers are inspecting before the printing machine to check whether the printed logo and scale pattern are accurate and whether they can meet the standards. This kind of inspection cannot be done by the machine, and the workers can also check the printing process.
Content
Aijiren provides printing services. These printing services can meet the needs of customers for label scales on HPLC Vials. Some customers need customized logo services, and the HPLC Vials bottle body can be customized with the logo of the customer's company logo. Or, by printing the Vial scale on the HPLC Vials bottle, it can accurately display the reagent level inside the Vial, ensuring that the autosampler sample has an accurate capacity representation. The writing area can also be printed. When hundreds of HPLC Vials are put together, it is easy to be unable to distinguish the reagents inside different Vials. The writing area can solve this problem, and the experiment number can also be written. Otherwise, the number will be marked directly above the Vial as in the picture below. After writing with such an oil-based pen, the mark will be easily rubbed off and scratched.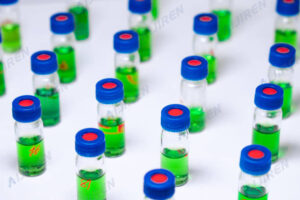 More Aijiren Vials